Back
Kickstarting a revolution in architecture funding
Could crowdfunding websites be a way forward for smaller architectural projects?
Last month Kevin McCloud's development company HAB announced it had surpassed its £1 million target on its latest round of fundraising.
A housebuilder raising money might sound par for the course, but HAB's approach was unusual: it had launched its pitch online and in public, via the crowdfunding platform Crowdcube.
The HAB project is now a few thousand pounds away from becoming the biggest crowd-funded pitch of its kind. Offering shares through crowdfunding seemed like a logical fit for a company that puts community at the heart of its projects, says HAB director Simon McWhirter.
"We had a business plan at the beginning and our target was £1.5 million, but for the crowdfunding process you have to set a minimum floor price," McWhirter says. "We went for £1 million. If we'd only got £9,999,999 we would have got nothing. There was a real sigh of relief when we passed that."
Crowdfunding is becoming a phenomenon in the built environment sector — a way of reaching out to communities of small-scale investors and members of the public to help launch projects and businesses that might struggle to find traditional backing.
Crowdcube is one of a new wave of platforms offering investors equity in the projects they choose to back. Others, like Kickstarter and Indiegogo, allow creators to offer one-off rewards or perks to backers. And then there are charitable crowdfunding sites that simply offer a feeling of good will.
These platforms allow organisations and creators to set their own fundraising goals, with individual backers chipping in from as little as £1 up to thousands. If the money isn't raised in full over a specific time period then the projects get nothing and the backers keep their money.
Crowdfunding can be highly resource-intensive and stressful, but winning outcomes go beyond a simple cash injection. In 2012, cultural organisation UP Projects turned to Indiegogo to secure the last pieces of financing it needed to launch a Duggan Morris-designed floating cinema.
"It was very time-consuming," says curator Laura Harford. "You are constantly emailing people and getting it out there into people's consciousness. You have to get people to go to that page — and then you've got to make them take their credit card out.
"But it had some successful outcomes, the best of which was that we now have this incredible loyal following."
UP recruited the architects to help publicise the fundraiser, and worked with broadcaster and artist Michael Smith on their pitch video. "Coming up with a snappy two-minute film that conveys
the atmosphere and the sense of your project, and the need for the money, is vital," says Harford.
American architects have latched on to the idea as a way to make small projects viable. These are largely backed by local people who can see what the proposal could do for their area. Successful projects have included pavilions for a public pool in New York and a bus shelter in Kentucky.
The rapid growth of this alternative model has prompted the American Institute of Architects to launch the Crowdfunding Initiative, a series of advisory articles, videos and research papers for their members.
Starters and non-starters
US-based Kickstarter, the biggest crowdfunding platform for single projects, has proved to be an invaluable resource for product designers, offering a new way to bring prototypes to the market. The platform is estimated to have seen more than $70 million of design pitches funded. But in the UK, it has offered mixed results.
A group from Birmingham School of Architecture's cross-disciplinary network Co.Lab raised £7,734 to help build a temporary cinema; but a Kickstarter campaign to fund a proposal for a new prototype house trialling a composite construction system fell spectacularly short, raising just £155 of a £10,000 goal.
Crowdfunding for projects where backers will receive a product at the end of the funding period can be an easier pitch.
Architecture graduates Chris Prosser and Ian Flood launched their Skyline chess project on the platform in August. Their product re-imagines the traditional chess set with iconic buildings from London's skyline. They have already raised more than £3,000, although their target is an ambitious £25,000.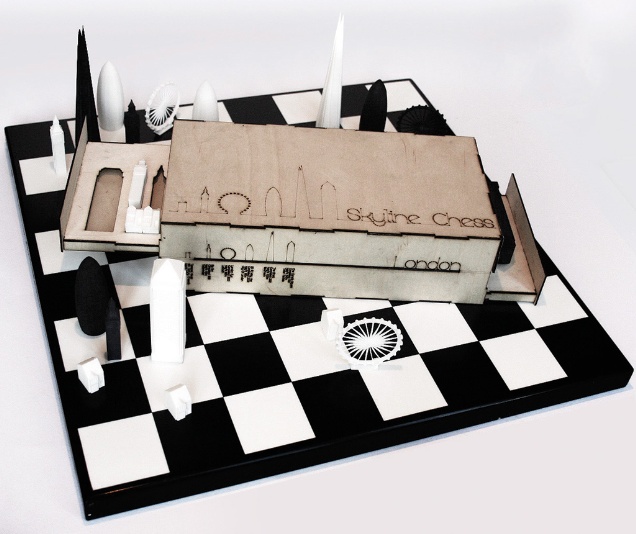 Chris Prosser and Ian Flood's Skyline chess project
Despite a flurry of press attention and a push via social media, the designers are philosophical about what might happen if they don't reach their target.
"Kickstarter just gives you the platform. We pushed hard on Twitter and have drummed up quite a following. It's a fantastic market research tool even if it doesn't get funded," says Prosser.
SOURCE: BDonline